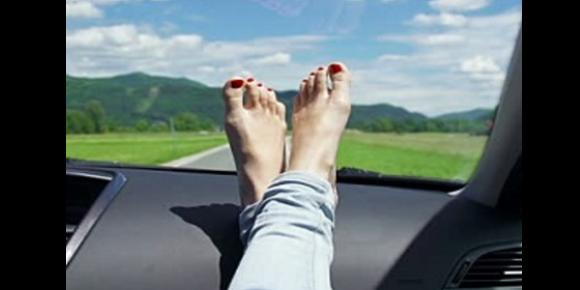 Even low-speed collisions can create severe injuries. If you ride with your feet on the dash and you're involved in an accident, the airbag (which deploys around 200 MPH) can propel your knees into your face.
Example #1: "The airbag went off…I was looking at the bottom of my foot facing up at me." Her ankle, thigh, arm and nose were all broken by the impact. "I can't do my career…I can't stand more than 4 hours at a time."
Example #2: Her knees smashed into her face. Her left eye socket and cheekbone were broken, as was her nose. Her jaw was dislocated, a tooth cut through her lower lip and she would lose her spleen. Both feet were broken and compressed, and would eventually end up nearly 2 sizes smaller than they were before the crash. Her left pupil would remain dilated, her hearing permanently altered, and her memory impaired.
Example #3: Passenger suffered multiple facial injuries, lost two teeth, and a ceramic forehead was implanted. "I kneed myself in the face and it was like an explosion."
Kick up your feet and relax…as long as you are not in the front seat of a vehicle.