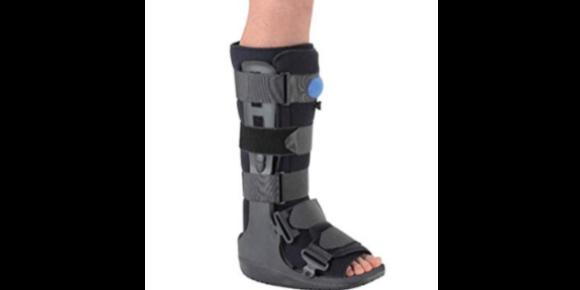 Orthopedic boots, also known as removable short leg walking boots, are an effective alternative to casts for various injuries and after surgery of the ankle and foot. Obvious advantages of these boots include ease of application, ability to perform range of motion exercises, and hygienic reasons.
Driving with a boot is not recommended. I have warned many patients that the boot can get entrapped by the accelerator and/or brake pedal. One such episode occurred in Canada. The driver, recovering from foot surgery, collided with a tree and suffered a serious spinal cord injury.
There are no standardized guidelines indicating when a person can resume driving after an injury or surgery. Evaluations such as the brake response time are not perfect estimators of driving ability since there are many more obstacles and distractions on a road compared with a simulation.
The Clinician's Guide to Assessing and Counseling Older Drivers, 3rd Edition, was published with support from the National Highway Traffic Safety Administration of the U.S. Department of Transportation. (The first two editions were titled The Physician's Guide…) The main goal of this guide is to help health care practitioners prevent motor vehicle crashes and injury.
If you have think you need a walking boot or other treatment for your foot or ankle, please call our office at (847) 675-3400 or click here.