Heel pain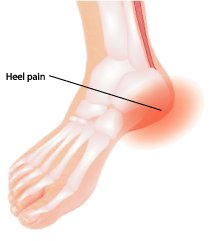 Our treatments provides quick relief and long-lasting results for most people suffering from plantar fasciitis and heel pain. Check our testimonial page to read how well our patients feel.
Plantar fasciitis is an inflammation of the fibrous connective tissue, called plantar fascia, that stretches across the arch of the foot and into the heel bone. Even regular walking hurts, especially when getting up in the morning and getting out of a car.
Plantar fasciitis is also known as Heel Spur Syndrome because the tension of the plantar fascia often causes the formation of a bone spur in the painful area. We have an x-ray machine in our office which can identify heel spurs immediately.
Running, sports, and shoes influence the severity of symptoms.

Plantar fasciitis is usually successfully cured with a combination of conservative measures:
With our protocol, many people feel better in one day. Surgery is rarely needed.

"Dr. Steven Miller was awesome! He addressed my problem and I was able to go to the Illinois State Square Dance and dance the whole weekend without any pain!!! He also took me in his office on short notice one day before the square dance convention."
"Dr. Miller examined my feet & told me what he was doing every step. He explained clearly, what my options were to relieve the pain in my feet. He addressed all my questions without rush. I felt very comfortable and confident about him and his practice."
Skokie Foot & Ankle Specialists, Ltd.
9933 Lawler Ave., Suite 315
Skokie, Illinois 60077
(847) 675-3400